Technology
---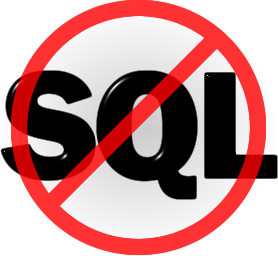 The NoSQL moniker that was coined circa 2009 marked a move from the "traditional" relational model. There were quite a few non-relational databases around prior to 2009, but in the last few years we've seen an explosion of new offerings (you can see,for example, the "NoSQL landscape" in a previous post I made). Generally speaking, and everything here is a wild generalization, since not all solutions are created equal and there are many types of solutions – NoSQL solutions mostly means some relaxation of ACID constraints, and, as the name implies, the removal of the "Structured Query Language" (SQL) both as a data definition language, and more importantly, as a data manipulation language, in particular SQL's query capabilities.
ACID and SQL are a lot to lose and NoSQL solutions offer a few benefits to augment them mainly:
Scalability – either as relative scalability, … Read More »
---
I haven't blogged in a few months and I guess it is about time I get back to writing. A lot has happened including me leaving CloudValue (I still think it can be interesting business-wise, but it wasn't very challenging technically) and moving to a new company (where I'll probably won't get rich but I get to work on challenging projects :) ). Anyway, I working with quite a few interesting technologies these days (Hadoop,  Greenplum, BigInsight and whatnot )and I thought it might be a good idea  to write about some of them. The first technology I am going to talk about is RabbitMQ.
RabbitMQ is a message bus built in Erlang. It implements the AMQP protocol, which, unlike JMS, is also a wire protocol and not just an API. (meaning you can use an AMQP client with any compliant … Read More »
---
I've got a comment from a user calling himself "AzureBizAndTech" to my previous post . Unfortunately the comment was deleted in in DDJ's move to a new blogging platform over the weekend. The person, who apparently works in Microsoft (per his first point- see below) posted the comment with the title "Many mistakes in this post". Below are his points and my reply
1) VMRole is not IaaS. This is not my opinion. It is Microsoft's (my employer) stated position.
Sorry however, whether an offering is IaaS or PaaS or anything is determined by its capabilities not by the label some marketing person put on it. The VM role is more IaaS than PaaS. It is true that it isn't a realy IaaS since it has a limited support of VMs (e.g. you can't run Linux on it)
2) Yes, it is a good … Read More »
---
Yesterday Alon Fliess and myself gave an open day @ Microsoft Israel on Azure cloud. Alon opened with an introduction to Azure Cloud and the bits and pieces that make it. The next presentation went into details  on Azure storage. I had two presentations as well. In the first, I talked about Architectural aspects of moving to Azure (how does cloud in genreal/azure affect the Fallacies of distributed computing) and in the second I provided some tips from our (codevalue's) experience on moving applications to Azure.
I've uploaded the slides from my presentations to slideshare:
Things to think about while architecting azure solutions
View more presentations from Arnon Rotem-Gal-Oz.
Azure migration
View more presentations from Arnon Rotem-Gal-Oz.
---
The next step in SAF after Modeling is technology Mapping. While mapping  is not a part of the architecture per se, it is, in my opinion,  an important and sometime crucial step.
Before I rumble on explaining why I think this is an important step, let me try to define what exactly do I mean by "technology mapping"
Architecture in essence is technology neutral – it describes the major components (read objects/services/components etc.) and their interactions –  but it doesn't specify what technologies and what technologies, products or existing assets will be used to implement it – that's where Technology Mapping steps in.
For example, in a previous post (Architectural Modeling – First Step ) I presented the following block diagram as a possible view for an architecture (Layer diagram):
One possible technology mapping for this (view of an) architecture  is depicted in the following diagram:
Before I continue … Read More »
---